Follow Hashtag on Instagram: Hello Everyone. Instagram has just announced that users can now directly follow hashtags. Instead of having to search by hashtags, or tapping through an image or video that already uses the hashtag, Instead of showing every piece of content that has been tagged with the particular hashtag, Instagram will use algorithms to surface the content that users have engaged with the most.
Follow Hashtag on Instagram in your main feed
Benefits Of New Feature #tag:
Now, Users does not have to search by hashtags, or tapping through an image or video that already uses the hashtag,
The new feature allows Users to track topics, hobbies or passions that interest them by following a hashtag.
The new feature is giving you new ways to discover photos, videos and people on Instagram.
Example: By following photography-related hashtags — things like #photography, #photojournalism. #weddingphotography and #streetphotography.
Best Free Instagram Video Downloader Apps for Android and Iphone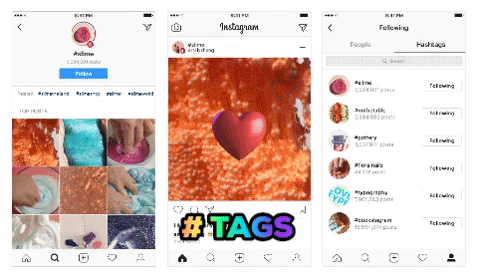 How to Follow HashTags on Instagram?
1. Users first have to search for a topic of interest, which displays two tabs. The 1st tab shows Users who post content related to the topic, and the 2nd tab lists related hashtags.
2. Next, tap and follow on multiple hashtags from this list. clicking on a hashtag through a search, or from a hashtag used in a shared topics, displays a hashtag-specific page. After that, you can follow the hashtag from this page.
3. Once a hashtag is followed, the Instagram feed will display the top posts that use the hashtag. Also, the Stories bar will feature the latest Stories.
How to Use Instagram Superzoom Face Filters and Stickers Feature?
How to Check Out the Other Users Following Hashtags?
Users can also check out the hashtags that other users follow. here is how.
Users can also see the hashtags that other users are following, just like how you can see which other accounts a person follows. The privacy settings for the hashtags you follow works as equal to the other people you follow unless a profile is set to private.
Remember: If you have a private account on Instagram, only your Instagram followers can see the hashtags that you follow, just like how we see other accounts a person follows.
Besides, Users have the freedom to unfollow a hashtag at any time.
How to use Instagram Stories – a step-by-step guide
My Last Words:
Hope you like this post. Try this and do not forget to tell us your opinion. Will you be using this new feature to follow any hashtags, Let us know down in the comments.